How To Get Rid Of Mold
Getting rid of mold is a different and unique project every time, there is no clear cut single process. The first thing you have to know is that without water the mold spores will not grow, so stopping the water source is always the first thing that needs to be completed. Otherwise, if you clean up the mold but don't take care of the water source, mold will come back. The other thing to know is that all mold is dangerous and harmful to our health, some more so than others depending on the volume of mold spores in the air. Mold is all around us, every day, and sometimes people don't realize that. The goal with the mold removal remediation process is to get the mold count down to the levels of the outdoors. So let's take a look at what the mold removal process looks like.
Mold Removal Process
Air Quality Test – The first step in properly remediating Mold is to get an air quality professional (Industrial Hygienist) to test the affected areas. With the test results, the air quality professional will be capable of writing up a protocol for proper remediation.
Mold Containment – When Mold spores get airborne, it can get in the HVAC system and spread to other parts of the building. Proper containment is extremely important in preventing the spread of contaminants. Symptoms of exposure to mold can include;

Nasal and sinus congestion

Eye irritation, such as itchy, red, watery eyes

Wheezing and difficulty breathing

Cough

Throat irritation

Skin irritation, such as a rash

Headache

3. Mold Removal – Once containment is set up and the moisture source has been properly taken care of, we can begin removal. This procedure will depend on the protocol written by the air quality professional after testing. This may include removal of drywall, carpeting, ceiling tiles, etc.Once all affected material is removed, the process of cleaning is written by the industrial hygienist but the cleaning process typically involves;

HEPA Vacuum

Hand Wipe Down w/

anti microbial

solution.

HEPA Vacuum

4. Mold Damage Repair – Once all the affected building materials have been properly removed and disposed of, and the area has been clean, First Restoration Services can repair all damage back to its original condition.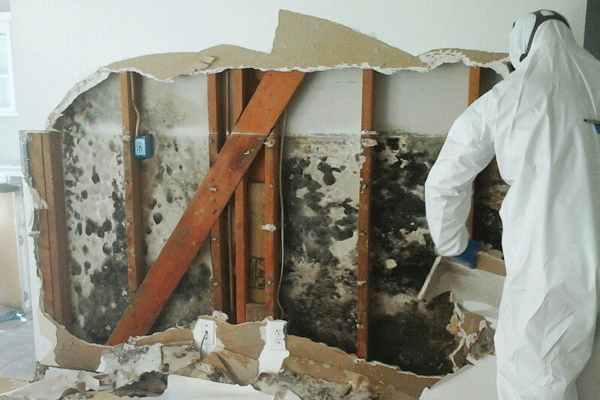 IICRC S520 Standard
First Restoration Services follows the standard of care by the IICRC. The ANSI/IICRC S520 is a procedural standard for the remediation of mold damaged structures and contents. The ANSI/IICRC S520 is based on reliable remediation and restoration principles, research and practical experience, and attempts to combine essential academic principles with practical elements of water damage restoration for technicians facing "real-life" mold remediation challenges.